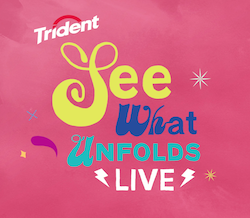 Gum – My Junk Food Killer
So I often use gum in an effort to cut back on eating junk food, namely Oreos (some of you may know that I can be easily bribed with Oreos! LOL).
How do I do it? GUM! It's the easiest way I know how to not reach for the Oreos. If I'm chewing some gum, I don't have a taste for much else. So I chew sugar free gum in between meals to cut back on snacking. Works for me! Sometimes we have to find all types of tricks to do what we know we should be doing anyway…#DontJudgeMe
Sidebar: Has anyone invented Oreo flavored gum yet? Let me know although I can't imagine what that would taste like…
About Trident® Sugar-Free Gum
Trident gum has long been a pioneer in providing oral health benefits to consumers. Trident was the first gum brand of its kind to undergo extensive long-term clinical testing in 1967 with studies showing that people who chewed Trident experienced significantly fewer cavities. Trident recently launched a new marketing campaign, the tone of which delivers against Trident's brand purpose of "liberating fun" and is designed to facilitate an emotional bond with consumers. Understanding that a piece of Trident "sparks that fun" is at the core of the campaign's new messaging. Trident is that tiny spark that motivates you to say yes to life's fun experiences.
Content and/or other value provided by our partner, Trident.
Chew Gum Much? Trident Gum Giveaway #SWULive
If you're like me and chew gum often, then you must enter for a chance to win a YEAR'S supply of Trident gum.
It's really simple.
Just enter the giveaway using the rafflecopter form below and one lucky Uncommon Chick reader will win a year's supply of Trident layers gum (that's 5 boxes of gum with each box containing 12 packs).  
Giveaway is now over…congratulations to our winners!
Giveaway ends on September 19th, 2012. Open to U.S. residents and winners (18 or older) will be chosen by Random.org through Rafflecopter and contacted by email. Please respond in 48 hours or a new winner will be chosen. Thank you for entering and good luck!!
The Trident Gum was offered free of cost to me. All opinions expressed in this blog post are purely my own. 
Over to you…
What do you do to cut back on junk food snacking?